Over the past years fashion trends have largely been echoes of the 20th Century; we've revived everything from the 1920s through to the 1980s - even a bit of 90s most recently. So it seems natural that we should venture back further, and add a bit of the 19th century into 2010 fashion trends.
Masculine fashion for women takes a dandy turn in Autumn(Fall)/Winter 2010 - or rather, a more dandy turn. Building upon elements already big in past seasons - like the tuxedo trend and military fashion, the female dandy in 2010 is part Beau Brummell, part Oscar Wilde, and at times a touch of Coco Chanel.
The Overall Look And Feel
There are certain terms that evoke the feel of the female dandy; some we'll take from history, others from the looks which have hit the 2009/2010 catwalks.
While androgynous, the 2009/2010 dandy trend is definitely feminine. If you're thinking Diane Keaton as Annie Hall you're a little off the mark. It's a mixture of sharp tailoring and stereotypically masculine clothes, but all cut to accentuate and flatter the female body.
Away from the 2009/2010 catwalks we can find to the 1700's dandy for inspiration for this trend. As the decadent Charles Baudelaire one highlighted of dandyism, it's a frame of mind for a person who "elevates aesthetics to a living religion".
Finally, as another luxury fashion trend which finds its roots firmly in Great Britain, elements of the female dandy trend should always evoke aristocracy and the associated wealth.
Key elements
Britishness; particularly Regency era British fashion
High collars; ruffle and bow blouses
Cropped slim-cut jackets in both a double or single breast
Waist coats & tailored vests
Fob chains
Frock coats and tail coats
High-waisted jodhpurs
Cinched Waists
A cinched waist is one way of feminising a masculine outfit. Try adding a waist cinching belt or nipped-in jacked to neaten up an overall dandy look.
Brooches
Brooches are one of the best way to slow off that dandy edge, but to get the dandy fashion trend spot on you'll need to aim for a brooch that is slightly larger than most of those made for women. I suggest taking inspiration from men's brooche to get the androgynous feel spot on.
Who Designed It
For a perfect balance of masculine elements and feminine cuts, look no further than
Abaete
, who got the look spot-on down to their brooch accessories.
Rag & Bone
were also on the mark; their slim cut dinner jackets having a slightly masculine feel.
Ralph Lauren
is of course a veteran of this particular look, this time feminising three-piece suits with elements of evening wear.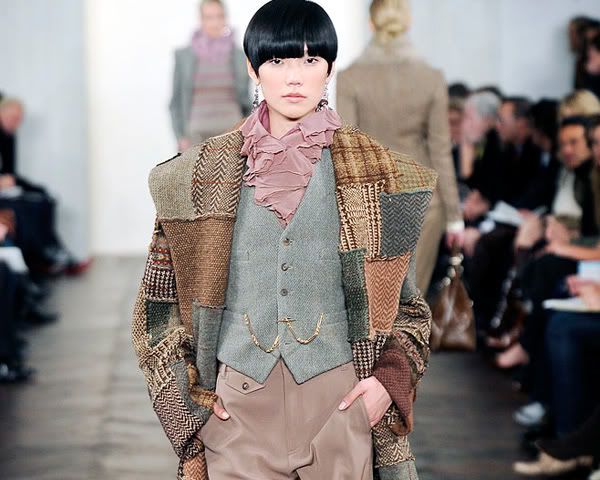 Fob-chain, waistcoat, and ruffled blouse at Ralph Lauren
Moving a little further away from the core Regency elements comes Hermes Autumn(Fall)/Winter 2009/2010, with masculine womenswear taking an aviation-inspired turn, reminiscent of Amelia Earhart.
There were also plenty of other examples and variations on the Autumn(Fall)/Winter 2009/2010 runways; some comprising complete dandy looks, others using subtle elements. For more pictures of the trend on the runway, click on the gallery below.
Mixing It Up
Of course you needn't only look to the given designers to find pieces which will perfectly evoke the female dandy. For instance you could borrow on elements of the military fashion trend, such as Balmain's military jacket, which also shares the masculine/feminine high-fashion quality. Adding man-style pant suits into your wardrobe can also transcend to Coco Chanel masculine territory, while vintage ties can be tres sexy with a feminine - yet understated - outfit.